Issue #1: For This 61-Year Old Vegan Bodybuilder and Martial Artist, Age Is Just a Number
Hi there,
Welcome to the first issue of Smart Vegan Athlete.
Each week, you'll receive curated content to help you become a better vegan athlete. I'll send you articles, interesting news, recipes to fuel your workouts, and useful advice. I'll also showcase some of the most inspiring vegan athletes from various disciplines.
I'm here to help you become the best athlete you can be—all while being compassionate toward animals and respecting the environment.
Before we get to today's issue, let me introduce myself…
My name is Martin and I'm a vegan interested in athletics (I bet you didn't see that coming!).
As an amateur fitness enthusiast, I'm passionate about various sports. Currently, my biggest passions are surfing, open water swimming, calisthenics, and rock climbing.
Like many athletes, I also enjoy hiking, bike riding, and easy nature walks. I also have experience with yoga (on and off), tennis (very amateur), and krav maga (ditto). And I'm always happy to learn new sports.
I felt that vegan athletes couldn't easily get curated content relevant in their everyday sports-infused vegan lives. So I started Smart Vegan Athlete to solve this problem.
Without further ado, let's begin today's issue. Topics covered:
Plants Milks by Protein Content
For This 61-Year Old Vegan Bodybuilder and Martial Artist, Age Is Just a Number
Vegan Athlete of the Week: Frank Medrano
Video of the Week: Frank Medrano Being Unstoppable
Recipe of the Week: Simple High-Protein Chocolate Smoothie
Inspiration of the Week: From Obesity to Vegan Athleticism
Upcoming Book You'll Love
---
Plant Milks by Protein Content
Ever wondered which plant milk has the most protein? I certainly did. Livekindly ranked 8 types of plant milk by protein content per cup (one cup is roughly 250 ml, so divide by 2.5 to get per 100 ml).
I'm yet to try the milk that was ranked number one. The milk I drink most often took third place. How did your favorite plant milk score?
---
For This 61-Year Old Vegan Bodybuilder and Martial Artist, Age Is Just a Number
In an interview with Plant Based News, 61-year old Lenworth Anderson proves that age is just a number. He fuels his rigorous routine consisting of martial arts and resistance training with plants only. Anderson noticed that he recovers way faster on a plant-based diet. He prefers fruits that have seeds and non-starchy vegetables.
Anderson shares his workouts and some of his meals on Instagram.
---
Vegan Athlete of the Week: Frank Medrano
Frank Medrano is one of the most admired bodyweight weight training experts. According to Forks Over Knives article profiling him, in 2011 Frank's bodybuilder friends encouraged him to cut animal products from his diet. He slowly switched to a plant-based diet and has been following it since then.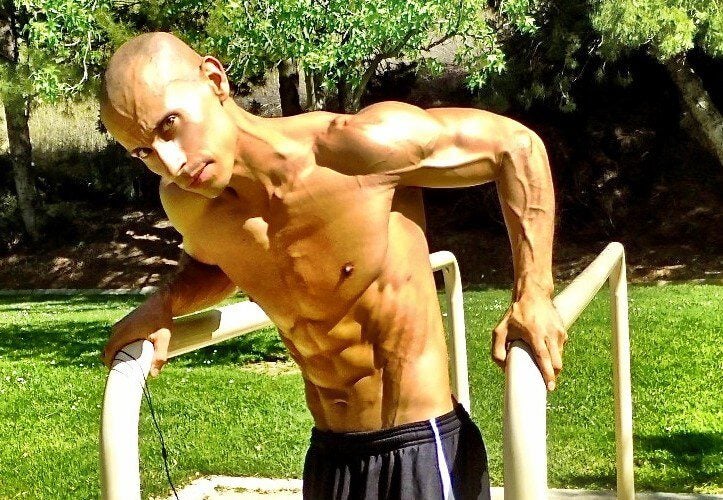 "I thought I was healthy and strong before, but I started to feel energetic and I was having quicker recovery after training," Frank said.
To learn more about Frank, here's Frank's profile on GreatestPhysiques.com. Check out his website at https://www.frankmedrano.com/ and his impressive workout videos on YouTube.
---
Video of the Week: Frank Medrano Being Unstoppable
See Frank Medrano in action performing some incredible bodyweight feats. The music, the editing, the physique—everything is on point and the "be unstoppable" message can't be any clearer!
---
Recipe of the Week: Simple High-Protein Chocolate Smoothie
If you're looking for a simple, filling protein chocolate smoothie, check this chocolate protein shake recipe at Minimalist Baker.
One smoothie packs 646 calories, 64.9 grams of carbohydrates, 23.3 grams of protein, 36.6 grams of fat, and 13.7 grams of fiber.
Careful: the "generous" portion is indeed very generous. I didn't have hemp seeds so I switched them for hemp protein powder. I also switched almond milk for oat milk. It still worked great. I prefer my smoothies thicker so next time I'd do this with less plant milk.
---
Inspiration of the Week: From Obesity to Vegan Athleticism
Reddit's user toofardeep posted on r/veganfitness his incredible 8-year journey from obesity to vegan athleticism. He initially lost 100 pounds in 10 months but had no definition. His weight fluctuated up and down for years within a 40 pound range. Then he went fully vegan and started tracking macros and calories. And then everything changed.
In his words:
"The picture on the right was the result of 6 days on and 1 day off a week. Track calories and macros to maintain a deficit while getting tons of protein. I biked, ran, lifted daily. A 5k once a week. Alternate lifting days with machines and dumbbells."
His diet was the following:
"Pretty boring and consistent. Morning was overnight oats with chia seeds, banana, and PB2. NoCow protein bar as snack. Huel with protein plant milk for lunch, Vega protein shake with more PB2 mixed in. Then dinner shifted. Mostly lentils, quinoa, tofu, or beyond/impossible meat, with random veggies. Brussels sprouts, mushrooms, carrots, peppers, etc. ended up being 2200-2400 calories a day."
At 44, looking much healthier than at 36, he's another proof that age is just a number.
---
Upcoming Book You'll Love
Matt Frazier's (of NoMeatAthlete.com) and Robert Cheeke's (of VeganBodybuilding.com) book The Plant-Based Athlete hits the shelves on June 15. I smell a huge bestseller! It's available for pre-order on all major retailers. If you order it now and submit proof of purchase, you'll receive some sweet pre-order bonuses.
I've already pre-ordered my copy!
---
How did I do? Hit reply and let me know. I'm looking forward to your feedback, suggestions, and any questions you may have.
All the best,
Martin
P.S. Help Smart Vegan Athlete grow by forwarding this email to your friend and encouraging them to sign up!
---
All past issues are available on the site.
Photo credits:
Featured image: https://www.instagram.com/p/CNYQ_fMphtI/